Scope 3, Category 15Sustainable Investments
A solution designed for the financial sector to measure and track your funds portfolio emissions according to the SFDR. Get a clear overview of your financed emissions. Align your investments to the needs of society and the environment.
Interested in measuring and tracking funds portfolio emissions?
We have the solution for you. Based on high quality data we provide the tool to assess and improve your funds portfolio. Our solution provides overall score of your funds portfolio, efficient way to manage sustainable performance of your portfolio according to SFDR (Sustainable Finance Disclosure Regulation).
Simplify data collections, improve data governance and data quality control.
With Klappir Sustainable Investments, you can streamline the recording of reliable and transparent data from your portfolio. Sustainable Investments offers you the capability to send data requests through the Platform, gather, process and store the performance data in one single solution.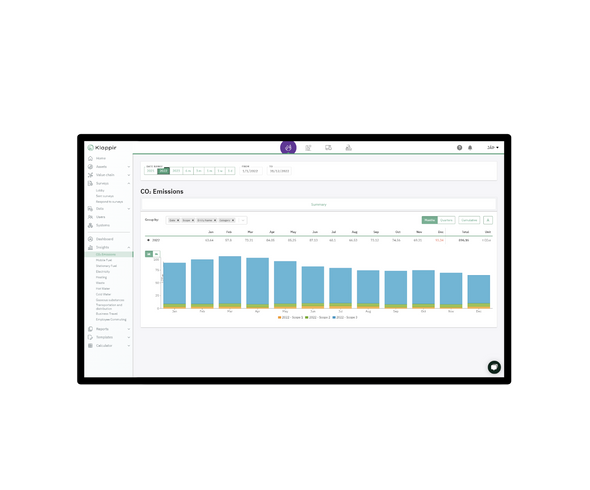 Scope 3, Category 15Sustainable Investments
The purpose of the Sustainable Investments add-on is to enable financial institutions to collect and upload emission data on listed and unlisted equity, corporate bonds, business loans and financed projects. Based on the collected data and additional data from the financial institution, the solution calculates the financed emissions and data quality score.
It also enable financial institutions to upload pre-calculated financed emissions on mortgages and motor vehicle loans.
With this transparent and integrated one solution methodology you can disclose reliable and transparent financed emissions data together with a data quality score.
The calculations are based on Partnership for Carbon Accounting Financials Standard (PCAF, 2022). The PCAF data quality score is based on the quality of the underlying data which is rated from 1-5 (rating 1 is the best score and 5 is the worst score).
With Klappir Sustainable Investments you will be able to collect data with the best data quality score while limiting your workload. The data is uploaded into Scope 3, Category 15 in your Sustainability Statement.
Want to know more?
If you would like to know more about the Sustainable Investments add-on and the Klappir Sustainability platform, feel free to contact one of our experts at service@klappir.com